Aparthotel Adagio Access Marseille Prado Perier
ALL SAFE
We have introduced elevated hygiene & prevention measures to ensure your safety.
The ALLSAFE label represents our new cleanliness & prevention standards and provides assurance that these standards have been met in our hotels.
20-minute walk from the Vélodrome

TGV train station and Metro less than 219 yards (200 m) away

Check-in: 3PM - Check-out: 11AM
The Adagio access Marseille Prado Périer aparthotel offers accommodation in the heart of Marseilles. It benefits from a prime location on the edge of the city centre, a 12-minute walk from the Palais des Congrès and less than 20-minute walk from the Stade Vélodrome. Our 102 apartments are fully furnished and equipped and guests benefit from access to  a private car park. Guests can enjoy  our air pool from 10 a.m to 9 p.m.
Hours: Monday-Friday:  7am to 8pm until April 30
Best price guaranteed

Free Wifi

Payment on the spot*

Free cancellation*
*Depending on the selected offer
Our apartments and studios
Studio for two people
Discover our modern and smart new studios, featuring a lounge with a double or twin beds, fully equipped kitchen, desk area, telephone, bathroom with bathtub or shower and toilet, TV and high-speed Internet.
Studio for 2 people with twin beds
Lounge area with 2 single beds, fitted kitchen, office space, phone, bathroom with bathtub and WC, television, high-speed WiFi.
One-bedroom apartment for 4 people
Lounge with 1 pull-out sofa bed, 1 bedroom with 1 double bed or twin beds, fully equipped kitchen, bathroom with bathtub and toilet, TV, telephone and free WIFI.
1-bedroom apartment with balcony for 4 people
Apartment with a balcony, living room with a pull-out sofa bed, 1 bedroom with a double bed or 2 single beds, equipped kitchen, bathroom with tub and toilet, television, telephone and free WiFi.
Services available on your aparthotel
Wheelchair accessible hotel
100% Non Smoking Property
What to see and do near the serviced apartment?
161 avenue du Prado 13008 MARSEILLE

Tel: 4/96208900
Fax: 4/96208901
You may like...
Adagio Marseille Prado Plage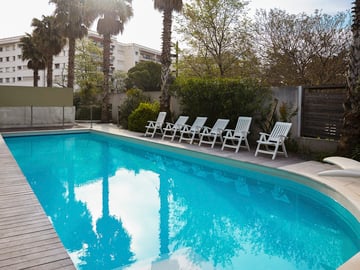 Adagio Marseille Prado Plage
Member rate -5% Take advantage of this reduction by creating your account at the time of your reservation
Adagio Marseille Timone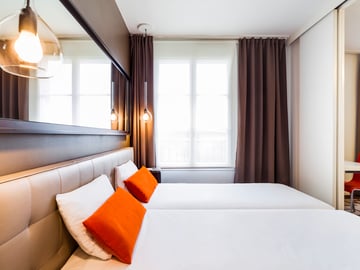 Member rate -5% Take advantage of this reduction by creating your account at the time of your reservation
Adagio access Marseille St Charles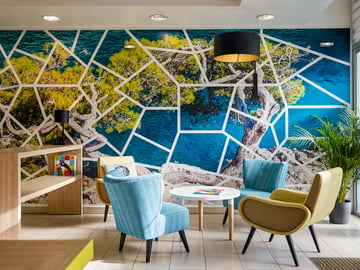 Adagio access Marseille St Charles
Member rate -5% Take advantage of this reduction by creating your account at the time of your reservation