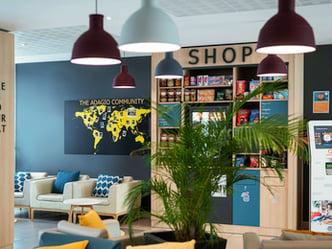 Aparthotel to Le Havre
Le Havre was built in the 16th Century and is classed as an 'Art and History City', as well as being listed as a World Heritage Site. The best way of exploring this cultural wealth is to stay in an aparthotel, an accommodation option that is far more intimate and welcoming than a mere hotel room. The Aparthotel is located right in the heart of the city, so you can explore everything the town has to offer.
Practical and functional, the aparthotel is perfectly equipped. You get to benefit from a kitchen with all the home comforts you could want as well as a variety of services such as breakfast, internet access, laundry and dry-cleaning. You can even move the furniture around to suit your preferences and needs. Enjoy a home from home and do things at your own pace for long and short stays on business or on holiday at an aparthotel. You can also get discounts depending on the length of your stay in these spacious and elegant apartments.
Visit Le Havre at your own pace
Your aparthotel is located in the town centre, so it's really easy to get to the most interesting areas and monuments in Le Havre, invariably using public transport. Explore the 18th Century Maison de l'Armateur (Shipowner's House), the Museum of old Le Havre and the André Malraux Fine Arts Museum. The Abbaye de Graville (Graville Abbey) that dates back to the 9th Century also contains some fine Middle Ages artefacts. You might want to wander around the old districts of Saint-Vincent, Danton, Massillon and Graville and admire the residences of 19th and 20th Centuries. The old docks located in the south of the town are also well worth a visit - these have been transformed into auditoriums, shopping centres and exhibition centres. It's a great chance to take a nature break too - wander through the Rouelles Park or in the hanging gardens for some amazing views over the town, and then round off the day relaxing and re-charging in the peace and quiet of your comfortable aparthotel after a busy day!
*These prices are the "starting from" prices.
They correspond to the lowest total price available on the dates requested, based on one accommodation (room, bed, etc.) or other services.
They may be based on different types of room/apartment or services. Depending on the country, these prices may not include taxes, may include VAT only or may include all taxes (VAT and city tax). When prices do not include all taxes, the relevant taxes (VAT and/or city tax) will be stated in the following stages of the booking process. The price is only guaranteed at the time of reservation.
Foreign currency conversions are given as guidance only and are non-binding.