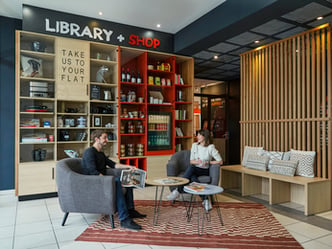 Aparthotel in Avignon
Adagio's Aparthotel in Avignon is situated in a prime location at the heart of the city centre, within walking distance of the main train station and the city's main square. Adagio's serviced accommodation provides a range of facilities for every traveller, be it those on a business trip, a longer family holiday, or a romantic weekend break. Adagio's Aparthotel in Avignon has 103 studios and 2-room apartments which can cater for up to 4 people.
Agadio Aparthotels: Serviced accommodation at a price that won't break the bankAdagio's serviced apartments have a range of facilities, including a lounge area with sofa, to give you a space to unwind after a day of sight-seeing. Each apartment also offers an office workstation with internet access, telephone and television, as well as Wi-fi in communal areas and access to a fax machine, which is ideal for those on a business trip. Each apartment also has its own fully-equipped kitchen, allowing you the convenience and independence one would expect from a rental property. Adagio hotel apartments guarantee a level of comfort one would expect from a flat to rent - truly a home away from home - yet without denting your budget in these austere times: meaning a stay at an Adagio hotel apartment is the perfect base to explore Avignon.
Experience the attractions of historic Avignon from an Adagio serviced Aparthotel
Avignon is one of the major cities of Provence and was European City of Culture in 2000, meaning there are plenty attractions for any would-be visitor. The ancient city sits on the banks of the Rhône river, which is a beautiful location for a romantic stroll along the riverbank by moonlight . The medieval attractions of the city stem from the time when the Papacy was shifted from Rome to Avignon, and the greatest example of this legacy is 'Le Palais des Papes', one of the the largest and most beguiling examples of Gothic Perpendicular architecture on Earth, and is certainly worth a visit to Avignon. For those who appreciate culinary delights, fresh food and produce is available at the daily open food market at Place Pie, which is especially known for its cheeses and wines.
Another popular tourist destination is the Place du Palais, just next to the Place de L'horloge, which is bustling during the summer months. For those who enjoy cultural endeavours, there are plenty museums and galleries throughout Avignon, with the Museum of Modern Art being especially worth a visit. Avignon has the advantage of being a city in which many of the main attractions are within walking distance, meaning that a stay at an Adagio aparthotel is a perfect base to explore all the city's wonders.
These destinations might interest you
*These prices are the "starting from" prices.
They correspond to the lowest total price available on the dates requested, based on one accommodation (room, bed, etc.) or other services.
They may be based on different types of room/apartment or services. Depending on the country, these prices may not include taxes, may include VAT only or may include all taxes (VAT and city tax). When prices do not include all taxes, the relevant taxes (VAT and/or city tax) will be stated in the following stages of the booking process. The price is only guaranteed at the time of reservation.
Foreign currency conversions are given as guidance only and are non-binding.