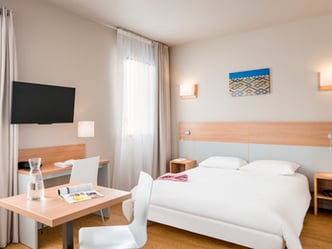 Aparthotel to Dijon
This temporary accommodation is tucked away right in the heart of the Côte-d'Or region of France, and it's very popular with businesspeople and visitors wanting to explore Dijon. The Dijon aparthotel is ideally situated a short walk from the town centre, and features all the services you need including wireless Wi-Fi internet access. The accommodation is flexible to suit, and includes a kitchen that's just perfect for travellers
Dijon is, above all, a city that's all about history. It contains some magnificent buildings dating back to the 14th and 15th Centuries including the Palais des Ducs (Dukes' Palace) and various mansion houses, and you'll love wandering through its narrow paved streets. You might even be tempted to make a wish by placing your left hand on the famous owl at the Notre-Dame Church.
A top-ranking gastronomic city
Dijon is also a city that loves its food - with four Michelin-starred restaurants, the place will delight your taste buds with its delicious dishes based on gingerbread, cassis and mustard. If you're looking for something altogether more exotic then don't miss the Dijon International and Gastronomic Fair, where you're sure to enjoy some delicious dishes. Over 200 exhibitors in the food and wine industry make their way here for the occasion, and naturally you'll be wanting to slake your thirst over a good Kir (the drink is named in honour of the former Mayor Chanoine Kir) in any one of the iconic town squares.
A cultural buzz
The Musée des Beaux Arts (Fine Arts Museum) has been recently renovated, and will be delighted to welcome you through its doors. It's located in the Palais des Ducs (Dukes' Palace) and exhibits works spanning all ages. If you're interested in learning more about the history of Burgundy then the Musée de la Vie Bourguignonne (Museum of Burgundy Life) is the ideal place to do so. Whatever else you do don't forget to make your way towards the church square of the Parvis Saint-Jean: this very old church has been renovated and now accommodates the Dijon Burgundy Theatre company. There's a wealth of artists performing on stage at the Zenith and the Vapeur in Dijon too - other performance halls cherished by the people of Dijon. Whether you're travelling alone or as a couple, Dijon is a really delightful little place that welcomes you with open arms, and there's always going to be something for you to enjoy, whether you're a culture vulture or a keen foodie!
*These prices are the "starting from" prices.
They correspond to the lowest total price available on the dates requested, based on one accommodation (room, bed, etc.) or other services.
They may be based on different types of room/apartment or services. Depending on the country, these prices may not include taxes, may include VAT only or may include all taxes (VAT and city tax). When prices do not include all taxes, the relevant taxes (VAT and/or city tax) will be stated in the following stages of the booking process. The price is only guaranteed at the time of reservation.
Foreign currency conversions are given as guidance only and are non-binding.