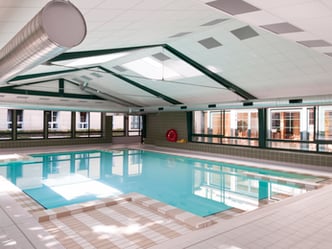 Aparthotel in Marne la Vallée
Aparthotels offer you the best of both worlds - the freedom and space of an apartment combined with the comfort and services of a hotel. Each apartment - whether it is a studio or one with one or two separate bedrooms - is equipped to a high standard with internet access, television, kitchen, sleeping and working spaces and a bathroom. Perfect for either a short business trip or a long stay leisure break, the Aparthotel in Marne la Vallee is well situated for easy access to Disneyland and has a laundry room and covered secure parking.
The main thing that an Aparthotel gives you is freedom, freedom to choose whether you breakfast in your own apartment or whether you eat breakfast in the hotel. All the apartments are equipped to a very high standard and offer exceptional value for money. The kitchens are fully equipped with fridge, dishwasher, microwave, a coffee maker and there is WiFi throughout the room. Even the small touches have been included, such as the availability of a hair dryer. Aparthotels are ideal for a weekend break, long trips of a month or more and business travellers who want to be able to relax at the end of a busy day.
Marne la Vallee - Business and Pleasure
Situated near the business centre of Val d'Europe, the Aparthotel in Marne la Vallee, offers the perfect place to stay for either the business traveller or holidaymaker who wishes to visit Disneyland. The hotel even has its own shuttle bus to the theme park and with some of the apartments having a balcony or terrace it is ideal for an extended stay. The area is well catered for with around 160 shops, many restaurants and even another theme park - Sea Life Paris. However, the area isn't just brand new attractions, it is also rich in culture and heritage. Why not visit the Château de Champs-sur-Marne, which is one of the finest examples of neo-classical architecture in the Paris region. Or the Chateau de Ferrieres-en-Brie, built in the mid 1850s and designed by Joseph Paxton. It sits in 3,000 acres of woods, parkland and fields and was constructed by Baron James de Rothschild, the founder of the French banking firm. Marne la Vallee is also within easy reach of the centre of Paris, so all of the attractions and business areas are within easy reach by train or car.
These destinations might interest you
*These prices are the "starting from" prices.
They correspond to the lowest total price available on the dates requested, based on one accommodation (room, bed, etc.) or other services.
They may be based on different types of room/apartment or services. Depending on the country, these prices may not include taxes, may include VAT only or may include all taxes (VAT and city tax). When prices do not include all taxes, the relevant taxes (VAT and/or city tax) will be stated in the following stages of the booking process. The price is only guaranteed at the time of reservation.
Foreign currency conversions are given as guidance only and are non-binding.