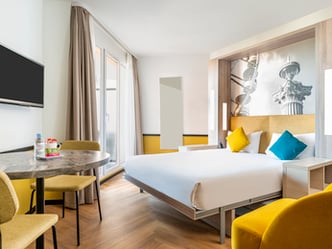 Aparthotel in Montrouge
Adagio's serviced apartment range allows you to experience all the convenience and ready-to-hand luxuries one would enjoy at home - be it whilst on a business trip, or on your summer holiday with the family. With our range of serviced apartments, you have access to all facilities you would normally expect at home or in a private flat to rent, with the use of an office workspace, telephone, internet access and most importantly, the independent use of a fully-equipped kitchen.
These facilities are all provided within our contemporary and stylish apartment hotels situated within choice locations - to allow you to gain the most from your stay at an Adagio Aparthotel. Our serviced apartments offer extra amenities such as, breakfast service, around-the-clock concierge, laundry and house-keeping, providing a level of convenience and comfort comparable to that of any reputable hotel. The Adagio apartment hotel provides the high level of comfort you require with an additional range of amenities from the provision of a safety deposit box to television access providing the facilities and piece of mind that you deserve, whether you are a business visitor on an overnight stay, or a long-term visitor using an Adagio apartment hotel as a base to explore the country. With all these benefits, a stay at an Adagio Aparthotel is the perfect choice for those requiring a great level of service, and all offered at competitive rates.
Enjoy Montrouge and all the felicity of Paris from an Adagio serviced apartment
Montrouge is a district in the southern Parisian suburbs, located a few miles from the centre of Paris which has recently undergone a process of gentrification, as the industry and printmakers which dominated the area from the 1920s moved further afield. The area is now 'bohemian', with industry making way for artisan cafes, artist studios and galleries, making the area an ideal place to visit for those enthralled with artistic endeavours. There is a plethora of galleries from those displaying the work of Franck Vanalderwerelt, to the Hélène Jacqz Gallery - meaning there is enough within Montrouge alone to keep any art-lover enthralled. And the location, right in the heart of Paris, within 20 mins walking distance from the Centre, makes it the ideal location to utilise an Adagaio Aparthotel as a base to explore and enjoy one of Europe's most enchanting cities. Montrouge is also famous for its culinary offerings, with over 50 quality restaurants to choose from, all within walking distance from your Adagio serviced apartment; any visitor to Montrouge must embrace the gastronomic pleasures the area has to offer - from quality Japanese food at 'Yakigushi', to modern cuisine at the highly-rated 'Aubergine et Cie' - A visit to an Adagio Aparthotel in Montrouge is the perfect destination for anyone with an interest in art and gastronomy, or an ideal base to explore Paris as a whole.
These destinations might interest you
*These prices are the "starting from" prices.
They correspond to the lowest total price available on the dates requested, based on one accommodation (room, bed, etc.) or other services.
They may be based on different types of room/apartment or services. Depending on the country, these prices may not include taxes, may include VAT only or may include all taxes (VAT and city tax). When prices do not include all taxes, the relevant taxes (VAT and/or city tax) will be stated in the following stages of the booking process. The price is only guaranteed at the time of reservation.
Foreign currency conversions are given as guidance only and are non-binding.