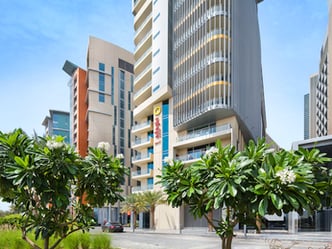 Aparthotel to Abu Dhabi
When you travel to Abu Dhabi you'll be warmly welcomed at the Adagio Al Bustan Abu Dhabi, a short walk from the city centre. Tourists staying at this aparthotel will find themselves just a few minutes' drive from the Abu Dhabi exhibition centre and some of the city's great cultural sites including the Zayed mosque the largest in the country, and one of the most important in the world.
Millions of people come to visit this monument every year. If you're a sports enthusiast there's a horse-riding centre and a golf course nearby, as well as the Zayed Sports City sports complex-all within a 4 kilometre radius of the Adagio Al Bustan Abu Dhabi. This apartment-hotel is located close to shopping streets and business centres and is also suitable for business travellers. It's just 20 minutes away from the airport too, so it really is an ideal base for your stay.
Adagio Al Bustan Abu Dhabi: comfortable, and a great location
In addition to its great location, the Adagio Al Bustan Abu Dhabi is also a very comfortable place to stay. There are 279 apartments available, including studios and apartments with one or two bedrooms sleeping up to 4 people. We also have luxury apartments with 3 double bedrooms. All of our accommodation is fully equipped, with kitchenette and lounge area. You'll find all the basic utensils and electrical appliances you need in the kitchen to put together a quick dish just like you would at home including a saucepan, frying pan, cooking dish and microwave oven ideal for a long stay. Every apartment has air-conditioning for your total comfort as well as a 42" television, a telephone line and private wash facilities. A range of optional services are also available to make day-to-day life that much easier including childcare, laundry service and private parking. And for a bit of rest and relaxation, you're welcome to use our facilities that include a wellness centre and a sports room.
These destinations might interest you
*These prices are the "starting from" prices.
They correspond to the lowest total price available on the dates requested, based on one accommodation (room, bed, etc.) or other services.
They may be based on different types of room/apartment or services. Depending on the country, these prices may not include taxes, may include VAT only or may include all taxes (VAT and city tax). When prices do not include all taxes, the relevant taxes (VAT and/or city tax) will be stated in the following stages of the booking process. The price is only guaranteed at the time of reservation.
Foreign currency conversions are given as guidance only and are non-binding.