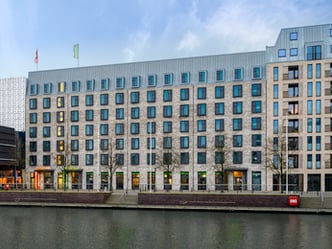 Apartment hotel in Kiel by the month, week or weekend
You have arranged to stay at our apartment hotel on your upcoming trip to Kiel. Once settled into your comfortable and fully equipped apartment, you will no doubt be eager to discover and explore this richly historic city. Whether travelling alone for work reasons or together with family or friends, you're bound to be impressed with this large German city, the urban landscape of which still remains strongly marked by its long history as both a port and an industrial and military centre.
The port of Kiel, an essential place to visit
The Port of Kiel is one of the largest ports in Germany and will delight both young and old alike. Located in the city's Kieler Förde inlet on the Baltic Sea, the port is used by ships, yachts and both merchant and passenger vessels, etc., all year round and also serves as a major departure point for cruises and regular scheduled services to Russia and Lithuania.
Kiel's church and its surroundings
Culture lovers are bound to be impressed by Kiel's main attraction, the Nikolaikirche, which is also the city's oldest building. The red bricks from which the church is constructed date from the 13th century and are typical of the region, and a Christmas market is held in the square on which it stands every winter. 
Before visiting the Maritime Museum, the main hall of which was once a fish warehouse, take the opportunity to go for a stroll along the banks of Kleiner Kiel lake, which lies west from the church. For an even more cultural sightseeing experience, the Varleberger Hof Museum, housed in a former hotel, has a variety of different exhibits on display, most of which relate to important events in Kiel's history. The zoological museum offers plenty to delight both young and old alike; and where shopping is concerned, the city is brimming with clothes, jewellery and souvenir shops. The Holtenshtrasse has some great cafés and restaurants to choose from when it comes to finding somewhere to eat and drink. 
*These prices are the "starting from" prices.
They correspond to the lowest total price available on the dates requested, based on one accommodation (room, bed, etc.) or other services.
They may be based on different types of room/apartment or services. Depending on the country, these prices may not include taxes, may include VAT only or may include all taxes (VAT and city tax). When prices do not include all taxes, the relevant taxes (VAT and/or city tax) will be stated in the following stages of the booking process. The price is only guaranteed at the time of reservation.
Foreign currency conversions are given as guidance only and are non-binding.