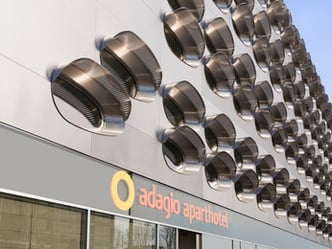 Aparthotel to Nancy
The Adagio Access Nancy Centre is just 5 minutes from Place Stanislas. There are 110 furnished and fully equipped apartments available to you, ideal for a temporary stay in Nancy. These residences are comfortable and the layout can be adjusted to suit your requirements. They range from a 2-person studio to a one bedroom apartment that will accommodate 4 people.
Each apartment is designed to be a truly independent residence, featuring a full kitchen with all the utensils you might need as well as private bathrooms with shower and hair-dryer. All have a phone, television and free Wi-fi internet access. Adagio also brings you a breakfast room, a terrace, luggage storage, laundry service, and two free parking areas (one lit space and one public space outside) as well as a paying parking area (private, covered). The communal areas are accessible to persons with extra mobility needs, and the studios have an office space.
Aparthotel Nancy: ideal for a relaxing weekend break or for a business trip
Nancy is a lively town with a considerable historic heritage. Place Stanislas is named after the King of Poland Stanislas Leczinski, and is considered to be one of the loveliest public squares in Europe. Its neo-classical gilded architecture is all the more impressive since its restoration in 2004-2005. The Adagio Access Nancy Centre is close to the Square, so it's really easy to visit the surrounding sites such as the Pépinière, King Stanislas's private park, and also the historic old town of Nancy which is packed with medieval heritage buildings as well as being full of delightful bars and restaurants. If you're in Lorraine on business then you'll find that the Aparthotel is quite close to the Nancy business district, and a very short distance from the Mediapark. The Saint-Sebastien shopping centre is ideal for a quick spot of shopping, and you'll find all you need amongst its many stores - and then relax after a great day at your comfortable Aparthotel.
*These prices are the "starting from" prices.
They correspond to the lowest total price available on the dates requested, based on one accommodation (room, bed, etc.) or other services.
They may be based on different types of room/apartment or services. Depending on the country, these prices may not include taxes, may include VAT only or may include all taxes (VAT and city tax). When prices do not include all taxes, the relevant taxes (VAT and/or city tax) will be stated in the following stages of the booking process. The price is only guaranteed at the time of reservation.
Foreign currency conversions are given as guidance only and are non-binding.