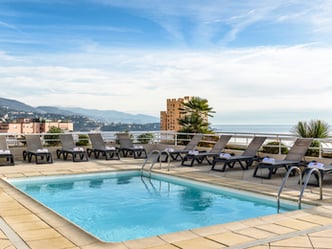 Aparthotel in Monaco
Monaco really makes you want to stay for a long time. There is so much to do that a few days is not long enough. But, when you are travelling, it is nice to have your home comforts rather than the impersonal feel of a hotel. Aparthotels are a mix of an apartment and a hotel and therefore give you the best of both worlds.
Each studio or one/two-bedroom apartment is fully equipped to make sure that your stay is as comfortable as possible. There will be a living area, kitchen, bathroom, work space and a sleeping area. The kitchens have all the utensils and crockery required for everyone. Of course, internet access is available in your room and basics such as a telephone and a television. Perfect for either a short business trip or a long stay leisure break, the two Aparthotels in Monaco are well situated and have air conditioning, laundry room and covered secure parking. The Monaco Palais Josephine welcomes you to the charming area of Beausoleil on the edge of down town, near the Convention Centre and the famous Casino. The Monaco Monte Cristo is situated in a central area of the Principality, allowing you easy access to all the attractions, shopping streets and other tourist attractions.
Monaco - not just a Grand Prix
The tiny Principality of Monaco covers just 2 sq km, but there is so much to do and see there, that it is impossible to visit it in one day. Of course, Monaco is famous for its F1 Grand Prix run in May through its tiny, twisting streets, but it built its reputation principally on the Grand Casino. Source of countless legends, it was built in 1856 by Charles III to save himself from bankruptcy. Visitors come in their thousands every year for the other great spectacles, the Monte-Carlo rally and the international circus festival in January, the Opera Season and the Fireworks Festival in July and August. The Palais du Prince is also open to the public whenever the Prince is not in residence. This 13th century building contains priceless furniture, carpets and frescoes. The changing of the guard takes place every day just before 12 noon. The climate of Monaco and the whole French Riviera is warm and dry, which has contributed to making the Jardin Exotique one of the finest gardens in Europe, with its huge range of tropical and subtropical plants. Whatever your reason for visiting Monaco, an Aparthotel is the perfect place for either a long or short-term stay.
These destinations might interest you
*These prices are the "starting from" prices.
They correspond to the lowest total price available on the dates requested, based on one accommodation (room, bed, etc.) or other services.
They may be based on different types of room/apartment or services. Depending on the country, these prices may not include taxes, may include VAT only or may include all taxes (VAT and city tax). When prices do not include all taxes, the relevant taxes (VAT and/or city tax) will be stated in the following stages of the booking process. The price is only guaranteed at the time of reservation.
Foreign currency conversions are given as guidance only and are non-binding.