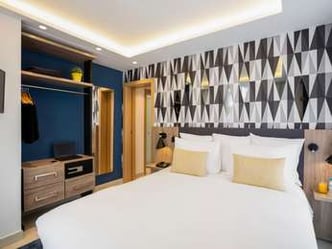 An Apartment Hotel in Casablanca
For your next stay in Casablanca, Morocco, choose Adagio and its new City Center Apartment Hotel. Synonymous with the iconic Hollywood film, Casablanca is also the economic capital of the country. Did you know that it is also has the largest population in Northern Africa? The Adagio Casablanca City Center Apartment Hotel plays host so you can enjoy this amazing city.
Apartment Hotel in Casablanca
An Apartment Hotel in the city centre is the perfect base to make the most of Casablanca while being totally independent. Visiting for business, to discover Morocco or staying for relaxing weekend? Whatever your reason for visiting Casablanca, the Adagio Casablanca City Center is perfectly located near the Mohammed V Stadium and the Royal Golf. There are 96 apartments including 79 studios. Tastefully furnished , they are designed to be as functional as possible, with fully equipped kitchen, lounge area and all mod cons, such as Wi-Fi.
The hotel has more than 4 meeting rooms, a major plus to easily organise get togethers with your local partners or colleagues. There are 2 fitness rooms for guests to exercise at any time of the day, subject to availability. Ideal to relax after a hard day and keep fit! For a complete change of scenery, the Adagio Casablanca City Center also houses a superb bar, restaurant and swimming pool on its rooftop! It also has a lawn terrace with olive trees where you can put your feet up.
Casablanca, the must-see Moroccan city
Nicknamed "the City," Casablanca is the economic heart of the Moroccan kingdom. The Adagio Casablanca City Center Hotel is perfectly located for business meetings in the Moroccan financial and economic capital. You will enjoy high quality hotel services without sacrificing your independence. Located on the Atlantic Ocean, Casablanca is also a seaside destination, with beautiful beaches, such as the Corniche. The world famous Hassan II Mosque, which you can visit with a guide; the Old Medina, partially surrounded by 16th century walls; the Sacred Heart Church of Casablanca, the Mohammed V Square, various mausoleums, as well as many others excursions in the city or its surroundings will allow you to explore the fascinating Berber culture.
These destinations might interest you
*These prices are the "starting from" prices.
They correspond to the lowest total price available on the dates requested, based on one accommodation (room, bed, etc.) or other services.
They may be based on different types of room/apartment or services. Depending on the country, these prices may not include taxes, may include VAT only or may include all taxes (VAT and city tax). When prices do not include all taxes, the relevant taxes (VAT and/or city tax) will be stated in the following stages of the booking process. The price is only guaranteed at the time of reservation.
Foreign currency conversions are given as guidance only and are non-binding.