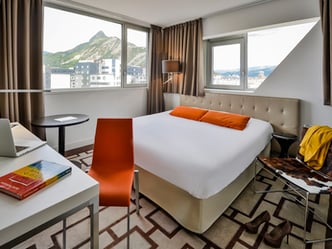 Aparthotel in Grenoble
Aparthotel Adagio Grenoble Centre serviced apartment is located close to the town centre in Grenoble: making it the perfect base for those who want to make that early business meeting, or wish to go exploring with the family. Adagio's 3-star rented accommodation is perfect for short visits or longer stays and offers 111 modern, stylish, apartments including studios and 2-room apartments for 6 people.
Each flat to rent has a range of amenities, including office workspace, internet access, and a fully-equipped kitchen. The Adagio Grenoble Centre also has an on-site gym, a private car park and is also well served by public transport. The Adagio Grenoble Centre  Aparthotel is located close to the city center, set within the shopping district, meaning it is the ideal camp for those who love to shop-until-they-drop, but its proximity to the Alpexpo convention centre, means that it is a fitting location for a business visitor. Our 3-star serviced apartments offers a range of facilities, including TV, internet access and fully-equipped kitchens. These amenities make Adagio Aparthotels an ideal base for a visit to the area, be it for skiing, sight-seeing, or for business.
See Grenoble from an Adagio Aparthotel: visit a beautiful town set in delightful Alpine scenery
Grenoble is situated in south-eastern France near the French Alps. With this, the climate is quite cold in winter, with regularly snowy days, but summers are generally hot, as mountains surrounding the town prevent any cooling breeze. Grenoble is therefore known for snow sports, such as skiing and snowboarding during the winter months, as well as mountaineering and rock-climbing throughout the year.Within Grenoble itself there are many cultural attractions, such as the Musée de Grenoble which holds some works by Matisse, Picasso, Miro, Kandinsky and Warhol. The Musée De L'Ancien Eveché is also worth a visit, displaying objects and art from the region, from prehistoric times until the Roman period, and is quite fascinating. Also worth checking out is the spectacular ancient fortification of Bastille Hill which overlooks Grenoble. They can be reached by a 40 minute hike, or by cable car, and despite being of interest themselves from an archaelogical perspective, they also offer decent views of the town. However, the surrounding Moucherotte mountains are the best way to see the most fantastic views of the town. For hikers this would take a whole day, but a regional bus (bus 5100) will deliver you at least half of the way, and the view is sublime. A visit to an Adagio Aparthotel in Grenoble offers attractions for those who wish to experience the thrill of outdoor pursuits, but also those who appreciate art and culture, as well as picturesque scenery.
*These prices are the "starting from" prices.
They correspond to the lowest total price available on the dates requested, based on one accommodation (room, bed, etc.) or other services.
They may be based on different types of room/apartment or services. Depending on the country, these prices may not include taxes, may include VAT only or may include all taxes (VAT and city tax). When prices do not include all taxes, the relevant taxes (VAT and/or city tax) will be stated in the following stages of the booking process. The price is only guaranteed at the time of reservation.
Foreign currency conversions are given as guidance only and are non-binding.