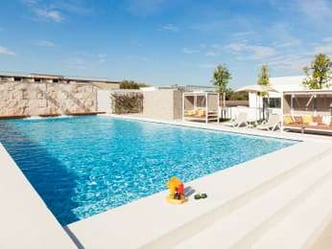 Aparthotel in Roma
For any kind of stay in Italy, Aparthotel apartments offer one hotel in the Italian capital of Rome. In the heart of Rome, the Roma Dehon is conveniently located near St. Peter's Basilica, Villa Doria Pamphili and the historic district. In this charming environment, the Aparthotel offers 81 comfortable apartments, boasting air conditioning and a balcony or terrace. On site you will find a seasonal swimming pool and parking. Public transport nearby can easily reach other attractions such as Piazza Pio XI. You can be sure of a warm welcome for your long-term or short stay.
If you haven't visited Rome, then you have a real treat in store, and if this is a repeat visit then you know that a week really isn't long enough to see this most ancient of cities. The Vatican City is the world's smallest sovereign state and the Piazza San Pietro is probably one of the most well know squares in the Christian world. Thousands crowd the space when a new pope is being sought and St Peter's Basilica, the museums and the Sistine Chapel are definitely worth the long queues to see them. The Colosseum was renovated in 2010 and the underground parts where the wild animals were kept are now accessible by tourists, so now the building is as impressive inside as it always was outside.
The Pantheon is the city's best preserved monument. This 2000 year old temple is massive and has a spectacular dome and some people rate it better than the Trevi Fountain and the Spanish Steps. Both of these are must see locations in different ways. The fountain fills nearly the entire piazza with giant sculptures that depict Neptune's chariot being led by Tritons with sea horses where the Spanish Steps are perhaps the best place for people watching in Rome.
*These prices are the "starting from" prices.
They correspond to the lowest total price available on the dates requested, based on one accommodation (room, bed, etc.) or other services.
They may be based on different types of room/apartment or services. Depending on the country, these prices may not include taxes, may include VAT only or may include all taxes (VAT and city tax). When prices do not include all taxes, the relevant taxes (VAT and/or city tax) will be stated in the following stages of the booking process. The price is only guaranteed at the time of reservation.
Foreign currency conversions are given as guidance only and are non-binding.