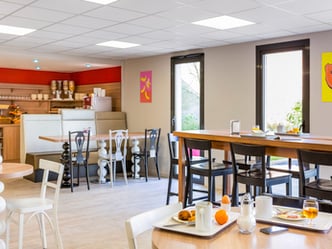 Aparthotel in Rennes
Our range of spaciously comfortable and fully-furnished studio and bedroom apartments accommodating up to four persons feature fully-equipped kitchens, working areas and bathrooms. High speed broadband internet and Wi-Fi in communal areas will ensure that whether you are working or relaxing you can always stay connected.
Additional facilities such as laundry and conference rooms are available and breakfast is provided at a small additional charge. Secure and private indoor parking offers convenient access to the hotels and close proximity to public transport means that the rest of the city, as well as the other major cities of France, are within easy reach. Whether your visit to Rennes is for business or pleasure, a long-stay or a brief stop, Adagio's competitively priced apartment hotels will make you feel like you never left home.
Rennes: The Heart of Brittany
The city of Rennes has a long and distinguished history influenced by its privileged position at the confluence of the Ille and Vilaine rivers. Once a Roman regional capital, the city's fierce independence saw it resist incorporation into the French Kingdom until the 15th Century. Its rich legacy has seen it become classified as a city of art and history, the rich historic centre houses a colourful array of traditional, half-timbered buildings. The imposing classical facade of the Parlement de Bretagne, the administrative and judicial hub of Brittany, belies the opulent grandeur of its interior. The region's most historic and frequently visited site, the Norman Benedictine Abbey of St Michel which sits atop Mont Saint Michel, is served by a high-speed rail service (TGV) from Rennes' Gare Montparnasse. For foodies, Rennes' Saturday market in the Places des Lices presents a wide variety of luxurious French delicacies such as cheeses, wines and snails as well as more standard fare. Despite its modest size, Rennes has a bustling night life and a stroll down Rue Saint Michael, known colloquially as the 'Street of Thirst' can't fail to disappoint even the most dedicated of revellers - beware Thursday nights during the academic year, however, when bars are packed to bursting point with throngs of students. In early July, Rennes witnesses its most celebrated festival - the 'Festival des Tombées de la nuit' where hordes of the city's residents pack the streets to enjoy free entertainment. The more regular 'Fest-Noz' events, advertised on posters dotted around the city, offer a taste of traditional Breton music, beer and dancing. Rennes remains somewhat underrated as a destination but it has a lot to offer and, situated in the heart of eastern Brittany, is a wonderful base from which to access Western France - with the capital just two hours away.
*These prices are the "starting from" prices.
They correspond to the lowest total price available on the dates requested, based on one accommodation (room, bed, etc.) or other services.
They may be based on different types of room/apartment or services. Depending on the country, these prices may not include taxes, may include VAT only or may include all taxes (VAT and city tax). When prices do not include all taxes, the relevant taxes (VAT and/or city tax) will be stated in the following stages of the booking process. The price is only guaranteed at the time of reservation.
Foreign currency conversions are given as guidance only and are non-binding.