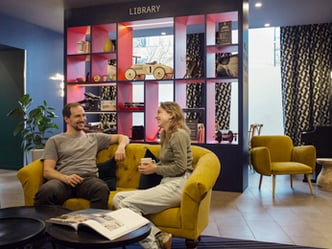 Aparthotel in Annecy
Adagio's serviced apartment range allows you to experience all the convenience and ready-to-hand comforts one would enjoy at home - be it whilst on your summer holiday with the family, a weekend break, or a business trip. With our range of serviced apartments, one has access to all amenities you would expect at home or in a private flat to rent, with the use of an office workspace, telephone, internet access and television.
There is even the independent use of a fully-fitted kitchen to allow you the choice and freedom that you would expect from a flat to rent. Furthermore, all these facilities are provided within our modern and spacious apartments situated within prime locations, allowing you to get the most from your stay at an Adagio Aparthotel. Our serviced apartments offer extra amenities such as, breakfast service, around-the-clock concierge, laundry and house-keeping, providing a level of convenience and comfort comparable to that of any reputable hotel. The Adagio apartment hotel provides the high level of comfort you require, meaning it is the ideal choice as a base to explore new destinations. With all these benefits, a stay at an Adagio Aparthotel is the perfect choice for those requiring a great level of service offered at competitive rates.
Enjoy the romance of Annecy with a visit to an Adagio Aparthotel in one of the most unique regions of France.
Romance is the main focus of Annecy, a town that's replete with castles and cathedrals and stunning vernacular architecture. A stroll across Pont des Amours (the lover's bridge) by moonlight, will leave you with an unforgettable experience. During the daylight hours one can visit the Imperial Palace hotel and appreciate its French late neo-classicism, before wandering to the the baroque Cathedral of Saint-Pierre. A stroll along the Rue Royale will provide ample opportunity to hit the shops and embrace French cafe-culture all with the beautiful backdrop of the fountain of Saint Jean. For dining-out, the cuisine in Annecy is first-rate, with Les Vielles Prisons, on Rue Perrière, the best the town has to offer, with a selection of dishes which are out-of-the ordinary making the restauarant certainly worth a visit. The area surrounding Annency is also paradise for those who love nature. There are plenty of opportunities for outdoor sports such as hiking, mountain-biking, and water-sports in the nearby Lake Annecy. There is even provision for hand-gliding for the more adventurous, from Col de la Forclaz less than 15 miles from Annecy and easily accessible from the town. All these attractions will make any visit to an Adagio Aparthotel at Annecy an unforgettable experience.
These destinations might interest you
*These prices are the "starting from" prices.
They correspond to the lowest total price available on the dates requested, based on one accommodation (room, bed, etc.) or other services.
They may be based on different types of room/apartment or services. Depending on the country, these prices may not include taxes, may include VAT only or may include all taxes (VAT and city tax). When prices do not include all taxes, the relevant taxes (VAT and/or city tax) will be stated in the following stages of the booking process. The price is only guaranteed at the time of reservation.
Foreign currency conversions are given as guidance only and are non-binding.