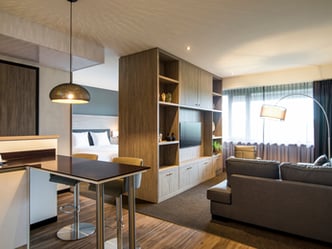 Aparthotel in Amsterdam
Adagio Amsterdam City South welcomes you in the Amsteelven neighbourhood. Recently built, the aparthotel boasts 151 apartments as modern as they are spacious, from 2-person studios to 2-room flats. Located only a few minutes away from public transport links, the 5 & 6 tram lines are 3 minutes' walk and you can reach the city centre in just 20 minutes.
To ensure that your stay is a success, our aparthotel has a 24/7 reception and you have access to private parking, a laundry service, and a fitness room. Not far from the Zuidas business district, our apartments are fully furnished and equipped. They have an equipped kitchen, a bathroom with shower and bath, and a lounge space that is perfect for relaxing in front of the TV. There are also several meeting rooms available on the premises. Moreover, so that you can start your day in the best possible way, the aparthotel takes care of breakfast!
The treasures of Amsterdam
As the place where many international companies are based, Amsterdam is one of the main economic centres in the Netherlands, but also a major financial centre on the European continent. The most popular tourist destination in the country, the town seduces visitors also by its many museums, found mainly around the Museumplein, and by the charm of its canals. A town in bloom and proud of its gastronomy, Amsterdam lives to the rhythm of its markets, where you will get the chance to taste one of the country's countless cheese specialities. The Dutch capital is also known for its architectural diversity. Close to 7,000 buildings have been classified as historic monuments. You will get every opportunity to admire them during a pleasant bike ride, the locals' preferred means of transport!
These destinations might interest you
*These prices are the "starting from" prices.
They correspond to the lowest total price available on the dates requested, based on one accommodation (room, bed, etc.) or other services.
They may be based on different types of room/apartment or services. Depending on the country, these prices may not include taxes, may include VAT only or may include all taxes (VAT and city tax). When prices do not include all taxes, the relevant taxes (VAT and/or city tax) will be stated in the following stages of the booking process. The price is only guaranteed at the time of reservation.
Foreign currency conversions are given as guidance only and are non-binding.