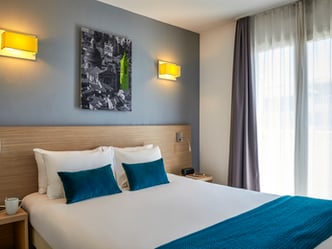 Aparthotel in Nice
To ensure the comfort of guests, an apartment hotel not only offers fully furnished and equipped apartments, but also a range of optional services. Adagio Aparthotels in Nice have two hotels that are comfortable well situated for either families on holiday or business travellers.
The Access Nice Magnan offers 102 apartments ranging from studios for one or two people to two-room apartments for 4 people. All are air conditioned, with a full kitchen, a seating area, a desk, and a bathroom equipped with a TV, a telephone and broadband Internet access. A meeting room, parking and breakfast are part of the optional services. The Access Nice Acropolis has 121 apartments with the same basic features: all are pleasantly furnished, air-conditioned and equipped with everything that you would expect from a hotel of this standard. This Aparthotel also has 4 apartments for disabled people and its panoramic rooftop pool is open on sunny days, - ideal for moments of relaxation. Both hotels also have on-site parking, so why not take the opportunity to use the excellent public transport links in the city. Leave the car behind and go exploring on foot or by tram/bus.
Visit the Capital of the Cote D'Azur
Up until the Second World War, Nice was favoured by aristocrats and monarchs. This glittering past has contributed to it becoming the capital of the Riviera. Now it is frequented by celebrities, business travellers and holidaymakers alike. The Promenade des Anglais was built in the 1830s with funds raised by the English colony. Today it is a huge, 5 km highway lined with galleries, shops, cafes and grand hotels which reflect Nice's prosperity. Nice was Italian until 1860 and this is reflected in the colours and styles of architecture of the Old Town. There is a daily flower and vegetable market in the Cours Saleya and the old monastery of Notre-Dame-de-Cimiez is well worth a visit. For art lovers, there is Musee Matisse, displaying drawings, paintings, bronzes and artifacts by the artist and the Museum of Contemporary Art featuring Neo-Realism and Pop Art from artists such as Andy Warhol. Nice has good beaches, an atmospheric street life but best of all is Carnival: 12 days of celebrations that finish on Shrove Tuesday with a fireworks display and Battle of the Flowers. Whatever your reasons for visiting the Riviera, the Aparthotels in Nice are the perfect place for a short or long-term stay.
These destinations might interest you
*These prices are the "starting from" prices.
They correspond to the lowest total price available on the dates requested, based on one accommodation (room, bed, etc.) or other services.
They may be based on different types of room/apartment or services. Depending on the country, these prices may not include taxes, may include VAT only or may include all taxes (VAT and city tax). When prices do not include all taxes, the relevant taxes (VAT and/or city tax) will be stated in the following stages of the booking process. The price is only guaranteed at the time of reservation.
Foreign currency conversions are given as guidance only and are non-binding.