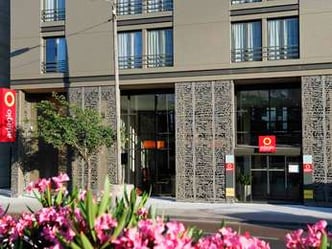 Aparthotel in Bordeaux
Our two hotels are both situated in the heart of Bordeaux. Buses and trams provide good access to the rest of the city and the Mériadeck business district is a short hop away. A range of studio apartments sleeping 1-3 persons and bedroomed apartments for up to 4 offer excellent value for money. All apartments feature well-equipped kitchens, working areas and bathrooms.
Many have extra features to make your stay as comfortable as possible: from coffee-makers to satellite TV. Comprehensive and high-speed Wi-Fi coverage throughout our buildings and apartments ensure that, whether you are working or just relaxing, you can always stay connected. Leisure facilities include a hammam, fitness centre and sauna (Adagio Bordeaux Gambetta) and a heated indoor swimming pool (Adagio Access Bordeaux Rodesse). Other on-site services, including breakfast, secure parking and laundry are available. Whether a short business trip or a couple of weeks vacation, our hotel apartments are a home from home.
Bordeaux: The Jewel of France's South-West
A beautiful city, an international hub in the wine trade and a mecca for wine-lovers: Bordeaux's claret is renowned around the globe. The city is a joy to visit at almost any time of year. Situated close to the sea, Bordeaux's mild climate means that even in late Winter most visitors can tolerate an outdoors meal. Bordeaux has managed to retain its architectural charm for over two centuries, resisting high rises and widespread urban development and has subsequently been listed as a UNESCO World Heritage Site. In recent years, the city's ancient dignity and château-owning classes have been augmented by the development of a youthful and vibrant cultural scene around St. Pierre as well as the Quai Paludate promenade. Modern art, fusion food, independent cinemas and hip hop, perhaps aided by its burgeoning student population, have renovated Bordeaux's once haughty atmosphere. Despite its modern trappings, Bordeaux nevertheless remains a city of art and history: the neo-classical Grand Théâtre de Bordeaux is home to the city's famed operatic and ballet performers whilst wide classical spaces such as the Place des Quinconces, Europe's largest square, rub shoulders with the architectural splendour of Bordeaux's numerous Gothic churches. Several museums including, predictably, a museum of the wine trade, orbit the Rue Sainte-Catherine; one of the longest shopping streets in Europe where everything from cheap cafés to exclusive boutiques line the bustling pedestrian walkway. The 'Sleeping Beauty', as Bordeaux is affectionately known, has woken up and is waiting for you to dive in and look around.
*These prices are the "starting from" prices.
They correspond to the lowest total price available on the dates requested, based on one accommodation (room, bed, etc.) or other services.
They may be based on different types of room/apartment or services. Depending on the country, these prices may not include taxes, may include VAT only or may include all taxes (VAT and city tax). When prices do not include all taxes, the relevant taxes (VAT and/or city tax) will be stated in the following stages of the booking process. The price is only guaranteed at the time of reservation.
Foreign currency conversions are given as guidance only and are non-binding.