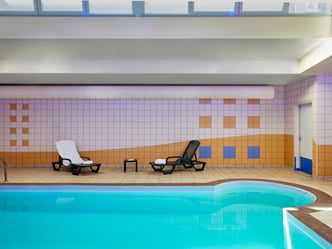 Aparthotel in Poitiers
A stay at an Adagio apartment hotel will enable you to experience all the wonders of a new destination, but without missing out on all the comforts of home. With an Adagio Aparthotel rented accommodation you have access to every facility you would usually require. Every serviced apartment equipped with an office workspace, including use of a telephone and internet access.
There is even a fully equipped kitchen - allowing you the freedom and independence found in any private rented accommodation. Moreover, all this is contained within spacious, modern and chic hotel apartments, all situated in prime locations. So if you want to make that early morning meeting on time, or go sightseeing in a popular tourist destination, Adagio's Aparthotels are perfect for giving you that freedom. Adagio's serviced apartments also offer extra amenities such as around-the-clock concierge, breakfast, house-keeping, and laundry services, providing an experience comparable to that of any quality hotel. With Adagio apartment hotels there is a guarantee of comfort that one would demand from private rental properties - meaning you can really feel at home - yet without breaking the bank.
Enjoy a casual break at an Adagio Aparthotel in beautiful Poitiers
Poitiers is a relaxed, medieval town set within spectacular traditional French countryside of rolling vineyards, and situated within the centre of France, meaning that a stay at an Adagio Aparthotel is the ideal base to explore the rest of the country. And with Paris less than 2 hours by train, Poitiers is the perfect retreat for those who want to experience the sedate aspect of French culture, but without being too far from the country's main attractions. Seaside resorts of the Vendée are easily accessible, such as La Rochelle and Les Sables-d'Olonne, for those wishing a day-trip to the beach. The town centre has a small square called 'La Place d'Armes' in which one can embrace the relaxed café-culture of this laid-back town, and enjoy a coffee in front of the medieval town hall, which is a building of exceptional quality. The Baptistry of St. John is another construction of great architectural renown, given that it dates from the 4th century and is one of the oldest surviving Christian buildings in Europe. For those who wish to entertain the kids, the 'Futuroscope' theme park is located around 10 miles north of Poitiers and is easily accessible by public transport. It features cinematographic and audio-visual multimedia attractions, including several 3D cinemas and even few 4D cinemas, some of which are the only examples in the world, and is well worth a visit if you stay at an Adagio serviced apartment in Poitiers.
*These prices are the "starting from" prices.
They correspond to the lowest total price available on the dates requested, based on one accommodation (room, bed, etc.) or other services.
They may be based on different types of room/apartment or services. Depending on the country, these prices may not include taxes, may include VAT only or may include all taxes (VAT and city tax). When prices do not include all taxes, the relevant taxes (VAT and/or city tax) will be stated in the following stages of the booking process. The price is only guaranteed at the time of reservation.
Foreign currency conversions are given as guidance only and are non-binding.