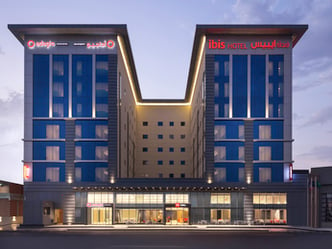 Aparthotel in Jeddah
Located by the Red Sea and close to Mecca, Jeddah is the second biggest city in Saudi Arabia and one of the country's most important cultural and commercial hubs. If you decide to visit Jeddah, here are a few things you must see to learn more about its history, culture and traditions.
Formerly a little fishing village, Jeddah has grown over the centuries to become an important site for reciprocal trade and fluvial traffic due to its strategic position by the water. Although its skyscrapers now compete with those in bigger world cities (the Jeddah Tower is over a thousand metres tall), the old town still exists and has been a UNESCO World Heritage Site since 2014. This makes Jeddah a place where you can enjoy both high-rise buildings and historic roads.
Considered a gateway to Mecca, Jeddah is a city with a deep sense of culture and awareness of the country's roots. If you're looking for things to do in Jeddah, you could for example visit the Jeddah Corniche to walk by the Red Sea, admire the impressive jet at King Fahd's Fountain, or go to the floating mosque. The unique Jeddah Aquarium is brimming with fish not found in the Red Sea and will be a favourite on your trip, delighting young and old alike. If you want to make some purchases, Jeddah also gives you the chance to go shopping in its many stores and malls. Finally, the city's restaurants will invite you in to discover the country's culinary diversity and the tastes and flavours of the local cuisine.
*These prices are the "starting from" prices.
They correspond to the lowest total price available on the dates requested, based on one accommodation (room, bed, etc.) or other services.
They may be based on different types of room/apartment or services. Depending on the country, these prices may not include taxes, may include VAT only or may include all taxes (VAT and city tax). When prices do not include all taxes, the relevant taxes (VAT and/or city tax) will be stated in the following stages of the booking process. The price is only guaranteed at the time of reservation.
Foreign currency conversions are given as guidance only and are non-binding.