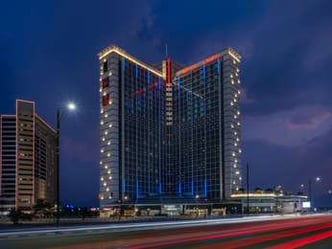 Aparthotel to Fujairah
Enjoy a different kind of holiday! If you're looking for something completely different, then the United Arab Emirates is your next holiday destination. Explore a different culture and look forward to a wealth of exciting, invigorating experiences where you'll be constantly amazed. Adagio has aparthotels that are an ideal home from home wherever you might be in the world, so you get to enjoy your creature comforts in an exotic destination.
The concept is so appealing - essentially the holidaymaker who chooses this kind of accommodation gets to benefit from a modern apartment, and live however they wish. The accommodation features an equipped kitchen, a modern bathroom, an office with internet connection and a spacious bedroom. Most apartments also have a safe deposit box - in fact, everything has been thought of to ensure that visitors staying here feel at home, and feel comfortable. Adagio has designed this kind of accommodation so that you can be free to live the way you want. Opting to stay in this type of accommodation means that you do not have to follow the traditional hotel schedule. You are totally free to do what you want, your living quarters are personal to you and you can come and go as you please. These benefits are what makes us different, and it also means you can structure your day while you're travelling just as you would at home.
An Emirates city that stands out by its very nature
Tourism has grown in Fujaïrah thanks to the attractions of this city that is orientated towards the Gulf of Oman. There are so many assets here: unlike other cities in the Emirates, Fujairah stands out for its originality, where the desert and its arid landscape give way to green mountains. Agriculture and fishing are big business here, and the city's ancestral history has left behind countless relics that simply have to be explored. Enjoy a complete change of scenery here as you stay at the aparthotel - the ideal way to relax after a thrilling excursion.
These destinations might interest you
*These prices are the "starting from" prices.
They correspond to the lowest total price available on the dates requested, based on one accommodation (room, bed, etc.) or other services.
They may be based on different types of room/apartment or services. Depending on the country, these prices may not include taxes, may include VAT only or may include all taxes (VAT and city tax). When prices do not include all taxes, the relevant taxes (VAT and/or city tax) will be stated in the following stages of the booking process. The price is only guaranteed at the time of reservation.
Foreign currency conversions are given as guidance only and are non-binding.