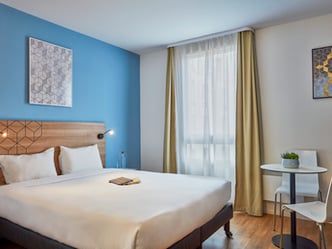 Aparthotel in Ivry sur Seine
The Aparthotel in Paris Quai d'Ivry in Ivry-sur-Seine is a hotel apartment ideally located near the banks of Seine on the south side of Paris. It offers 176 pleasantly furnished and equipped apartments including 4 for guests with limited mobility. Holidaymakers and business tourists can choose from studios for 2 persons and two-room apartments for 4 people. Each apartment is equipped to a high standard with internet access, television, kitchen, sleeping and working spaces and a bathroom.
The kitchens are fully equipped with a fridge, dishwasher, microwave and a coffee maker and there is high speed broadband internet access in your own room together with WiFi in the public areas. Also included in the high spec apartments is a safe and telephone. The Aparthotel also has private covered parking and public outdoor parking available and there is the option for guests to have breakfast in the hotel, if you wish. Even the small touches have been included, such as the availability of a hair dryer. Aparthotels are ideal for a weekend break, long trips of a month or more and business travellers who want to be able to relax at the end of a busy day.
Living on the outskirts of Paris
Ivry-sur-Seine situated in the south eastern suburbs is not without lack of interest. Shopping enthusiasts will appreciate the Quays, a shopping centre renovated in 2008 and containing 80 stores in addition to its hypermarket. Some monuments in the city also deserve a visit, such as the former factory of carnations, which is now a French historical monument and one of the symbols of this town. It is also very close to Paris' China Town (in the 13th arrondissement) and as it has grown, so Ivry has become a place for many Chinese and Asian businesses. Attractions close by are the Jardin des Plantes which is not only a beautiful garden but also contains a small zoo. There are also Green River Cruises who operate a small fleet of boats providing trips on the Seine. Bercy village which is quite close, was once the area of Paris' old wine cellars, it has now been transformed into a shopping centre with lots of bars and restaurants with a pretty little park next door. Jumping onto the Metro will speed you into the centre of Paris in just minutes and, of course, a whole world of culture, stunning landmarks, beautiful gardens and cafes and bars serving tasty food awaits you.
These destinations might interest you
*These prices are the "starting from" prices.
They correspond to the lowest total price available on the dates requested, based on one accommodation (room, bed, etc.) or other services.
They may be based on different types of room/apartment or services. Depending on the country, these prices may not include taxes, may include VAT only or may include all taxes (VAT and city tax). When prices do not include all taxes, the relevant taxes (VAT and/or city tax) will be stated in the following stages of the booking process. The price is only guaranteed at the time of reservation.
Foreign currency conversions are given as guidance only and are non-binding.