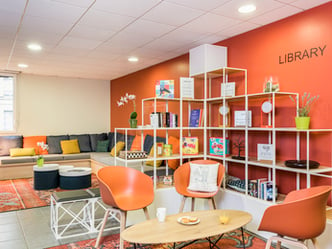 Aparthotel in Asnières sur Seine
To enjoy tranquillity during a stay in Paris, lodging in an apartment hotel in the suburbs such as in Asnieres-sur-Seine is ideal. Located a short distance from the City of Light, the Access Paris Asnieres welcomes you whatever the reason for the stay.
Located close to a transit network, this Aparthotel in Asnieres-sur-Seine, allows you to easily reach the heart of Paris and its attractions. There are 135 apartments, including 10 with facilities for disabled guests. Depending on your specific requirements, you can choose between studios with a double or two single beds and one bedroom apartments that can accommodate up to 4 people. All are fully equipped and pleasantly furnished to ensure your comfort. Each apartment has a full kitchen, but if you do not have time to cook, there is a vending machine for sandwiches and drinks and a continental breakfast is also available. Among the other facilities available are, all apartments each have an air freshener, a sitting room, a bathroom with bathtub, a telephone line, internet access, desk and a TV. For those who are travelling by car, the Aparthotel in Asnieres-sur-Seine has a covered parking. There is also a laundry room on site.Suitable for a short business trip or a longer budget break on the outskirts of Paris, this Aparthotel will appeal to everyone.
Comfort and Quiet to the North West of Paris
Situated close the the business district of La Defense, outside the noise of Paris itself and close to the transit network, the Aparthotel in Asnières sur Seine is the perfect place to stay for business travellers or sightseers. Many impressionist painters chose Asnieres as a place of inspiration or residence, with both Vincent Van Gogh and Georges Serault living there in the mid-1880s and painting scenes of the Seine and restaurant life. The city still has a castle, and the restoration of the ground floor was completed in 2009. Built in 1750 by Jacques Hardouin-Mansart de Sagonne, architect to the king, it was the property of the Marquis de Voyer d'Argenson, an army Marshall of the king. It is now owned by the city. Among the sights to visit in Asnieres is the dog cemetery, known to be the oldest pet cemetery in the world. There are known to have been buried more than 50,000 animals and each year it attracts many visitors. Asnières is well worth a visit not only for its architectural heritage but also for its19 squares and 38 acres of parkland.
These destinations might interest you
*These prices are the "starting from" prices.
They correspond to the lowest total price available on the dates requested, based on one accommodation (room, bed, etc.) or other services.
They may be based on different types of room/apartment or services. Depending on the country, these prices may not include taxes, may include VAT only or may include all taxes (VAT and city tax). When prices do not include all taxes, the relevant taxes (VAT and/or city tax) will be stated in the following stages of the booking process. The price is only guaranteed at the time of reservation.
Foreign currency conversions are given as guidance only and are non-binding.