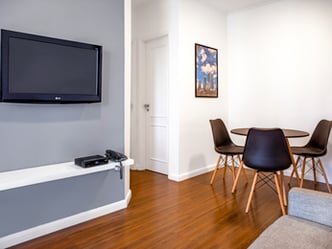 Aparthotel to Sao Paulo
Adagio brings you accommodation solutions that are ideal for holidays and business trips. Our aparthotel network of residences can be found right in the heart of cities and business districts. Sao Paulo has four aparthotels so that you can enjoy a comfortable stay and enjoy a top of the range hotel service at a great price, whilst retaining your independence.
Sao Paulo is the biggest city in Brazil and is also the industrial, financial and commercial centre of Latin America. Whether you're on a holiday or a business trip and whether it's a short or long stay, the Adagio Aparthotel is the ideal solution for all your needs. You'll benefit from flexible hotel services, or you can be completely independent. The Aparthotels Adagio Itaim Bibi, Adagio Nortel, Adagio Moema and Adagio Berrini are all close to the business district and shopping centres right in the centre of the city, and are easy to get to.
Business trips to Sao Paulo
The Adagio Aparthotel is ideal for business trips. It's a comfortable, elegant place that's close to public transport facilities. The Aparthotels are fully furnished and equipped, and there's also the chance to make use of the optional hotel services. There's an office space with telephone and Internet connection as well as space that can be laid out to suit your needs - perhaps to hold a meeting, for example. If you're staying a little longer then the price drops from the fourth night onwards.
Holiday in Sao Paulo
For your tourist visit to Brazil, the Adagio Aparthotel brings you modern residences ranging from studios to family apartments, all tastefully decorated. You're free to enjoy total independence during your stay as the aparthotels have equipped kitchens, or you can also enjoy the optional hotel services available - it's down to you!
*These prices are the "starting from" prices.
They correspond to the lowest total price available on the dates requested, based on one accommodation (room, bed, etc.) or other services.
They may be based on different types of room/apartment or services. Depending on the country, these prices may not include taxes, may include VAT only or may include all taxes (VAT and city tax). When prices do not include all taxes, the relevant taxes (VAT and/or city tax) will be stated in the following stages of the booking process. The price is only guaranteed at the time of reservation.
Foreign currency conversions are given as guidance only and are non-binding.