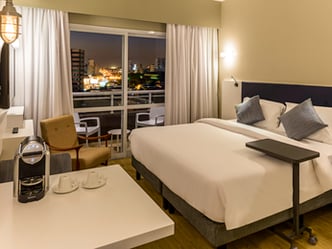 Aparthotel in Sao Bernardo do Campo
The Adagio aparthotel in São Bernardo do Campo offers studios and one-bedroom apartments that can accommodate up to four guests. It combines the services and facilities of a hotel with the freedom and independence of your own home.
São Bernardo do Campo is situated in southeast Brazil, within the Saõ Paulo metropolitan area, and is home to 800,000 inhabitants. As a Portuguese colony founded in the 16th century, it was the first Brazilian city to be built away from the Atlantic coast. São Bernardo do Campo is an industrial city and is Brazil's automotive capital.
Capital of Brazil's auto industry
Within the metropolitan area, Saõ Bernardo is the city located closest to the beaches and is only 45 minutes away from the centre of Saõ Paulo. Here you can explore 150 museums and cultural centres, go to the world's largest gay pride parade, party at the February carnival, enjoy shopping at the Mercado Municipal, a covered market built in the belle époque style, or admire the Theatro Municipal, an architectural gem whose interior is clad in gold and marble.
Where to stay in São Bernardo do Campo
By staying at the Adagio aparthotel in São Bernardo do Campo, you can experience life in the heart of the city while maintaining your independence and enjoying peace and quiet in comfort. Its experienced staff will give you tips on any must-see places to visit and outstanding sights off the beaten path, as well as the best ways to get there. The Adagio aparthotel in São Bernardo do Campo features a fitness room, a restaurant and two conference rooms. Located just 50 metres from the Metrópole shopping mall, it is very well served by public transport and is close to the highways that will get you to Saõ Paulo or the coast.
Your home-from-home in the heart of Brazil
With their well-equipped kitchen area and convenient facilities, the apartments are exceptionally functional and easy to live in. You can organize your time as you wish and take advantage of the fitness facilities to keep in shape or simply relax between cultural excursions or nights out in the trendy hotspots of São Bernardo do Campo.
*These prices are the "starting from" prices.
They correspond to the lowest total price available on the dates requested, based on one accommodation (room, bed, etc.) or other services.
They may be based on different types of room/apartment or services. Depending on the country, these prices may not include taxes, may include VAT only or may include all taxes (VAT and city tax). When prices do not include all taxes, the relevant taxes (VAT and/or city tax) will be stated in the following stages of the booking process. The price is only guaranteed at the time of reservation.
Foreign currency conversions are given as guidance only and are non-binding.