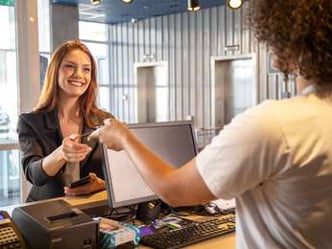 Aparthotel in Jundiai
Jundiai has a population of 350,000 and is situated in south-east Brazil, in the state of São Paulo , halfway between Campinas and the city of São Paulo. Located near the Anhanguera motorway, the Adagio access aparthotel is the perfect springboard for quickly making your way to the bustling city of São Paulo, the Atlantic coast beaches or more inland destinations.
The aparthotel is on the city's main road and benefits from public transport links. It will allow you to discover Brazil's gastronomic and cultural diversity as well as visit the botanic gardens or the city's history museum.
Where to stay to Jundiai
The Adagio access Jundiai aparthotel benefits from a central location, while offering you tranquillity and all the modern comforts. It proposes studio and one-bedroom apartments which can sleep up to 2 people. Do you want to benefit from hotel services while remaining independent and enjoying your own separate space? Then our apartments are just what you need: a fitted kitchen will allow you to manage your own meals and the complex provides access to communal laundry facilities and a gym, so you can stay fit during your holidays. A variety of breakfasts are also available.
At the heart of the state of São Paulo
The experienced staff of the Adagio access Jundiai aparthotel will be able to tell you about the city and region's must-visit sites and the traditional and less well-known tourist haunts, and even advise you on how to get there.
Have you heard of the Mantiqueira Mountains which reach heights of more than 2,500 m? As for Iporanga, it is situated in the heart of one of the most beautiful tropical forests in Brazil, and if you follow the incredible coastal road along the Costa Verde, you'll discover jungle-covered mountains overlooking the most stunning unspoiled beaches in this part of Brazil. The state's capital is also bursting with architectural treasures and cool tourist hotspots.
*These prices are the "starting from" prices.
They correspond to the lowest total price available on the dates requested, based on one accommodation (room, bed, etc.) or other services.
They may be based on different types of room/apartment or services. Depending on the country, these prices may not include taxes, may include VAT only or may include all taxes (VAT and city tax). When prices do not include all taxes, the relevant taxes (VAT and/or city tax) will be stated in the following stages of the booking process. The price is only guaranteed at the time of reservation.
Foreign currency conversions are given as guidance only and are non-binding.