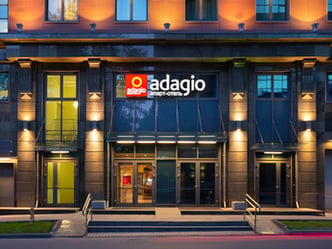 Aparthotel to Moscou
This is a brand new kind of accommodation delivering optimum comfort. Adagio City are the experts in making you feel comfortable wherever you are with this innovative concept.
Adagio brings you a package of apartments available to rent in town centres in France as well as in the Middle East, South America and Russia. Russia is a very popular destination with tourists, who flock to the capital Moscow to explore the hidden delights of the largest European city. There are so many ways to experience the multi-faceted history of the inhabitants of the Russian capital: the city's architecture with its many Orthodox monuments is incredibly varied, and there are many Stalinist works that likewise recall a past marked by this epoch. The beauty of the city's historic centre is striking, and is well worth a visit too.
An aparthotel where you can relax
The best way to explore Moscow is at your own pace without rushing around, and a well-located residence is the best way to make the most of your holiday. The aparthotel is the ideal way to feel like you're at a home from home, as you're close to public transport. Located right in the middle of the city, the Adagio apartments are very comfortable so that visitors get to feel relaxed straight away in a space dedicated to well-being. Inside the apartments, occupants are free to enjoy spacious living quarters that are attractively decorated, and benefit from high quality services. The equipped kitchen is modern, and has a dishwasher. These apartments are equipped with a bathroom with shower or bath, an office with phone, a safe deposit box in most of them, an internet connection, a comfortable bedroom and a flatscreen TV.
An unforgettable stay in Moscow
An aparthotel in Moscow means that you can make the most of the Russian city and its treasures. Visitors staying in these residences benefit from a customised accommodation that offers all the comforts necessary to a successful stay.
*These prices are the "starting from" prices.
They correspond to the lowest total price available on the dates requested, based on one accommodation (room, bed, etc.) or other services.
They may be based on different types of room/apartment or services. Depending on the country, these prices may not include taxes, may include VAT only or may include all taxes (VAT and city tax). When prices do not include all taxes, the relevant taxes (VAT and/or city tax) will be stated in the following stages of the booking process. The price is only guaranteed at the time of reservation.
Foreign currency conversions are given as guidance only and are non-binding.