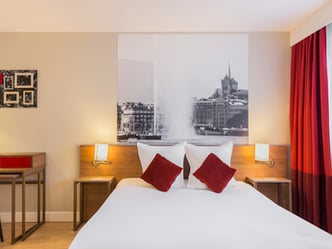 Aparthotel to saint genis de pouilly
Thoiry is a French town beside the Franco-Swiss border, just 10 km from Geneva city centre. By opting to stay at the Adagio Genève Saint-Genis-Pouilly aparthotel, you'll enjoy comfort and independence as well as immediate proximity to Switzerland's second-biggest city.
Your aparthotel offers a variety of accommodation including 2-person studios with twin or double beds, one-bedroom apartments for 4 or superior studios. All of these apartments provide numerous facilities: a bathroom, adaptable lounge area which includes a work space and a fully-equipped kitchen giving you the freedom to prepare and eat your meals as you please. You will also have access to a telephone, Internet, television, breakfast if you choose, and even a gym to blow off some steam and any extra energy. Accessible via a Genevan public transport bus line, the Adagio Thoiry means you can stay in the country, but be right on the edge of the city.
Geneva, a business or institutional trip
If you're travelling to Geneva for work, opting for a furnished Adagio apartment is the perfect solution. Situated on the banks of well-known Lake Geneva, the Swiss city is home to the European and global headquarters of important international organisations such as the United Nations, World Trade Organisation and the World Health Organisation, as well as numerous NGOs. A global city, it is also a distinguished centre for the negotiation of oil prices and an extremely important financial centre.
A pied-à-terre just a stone's throw from Geneva, for exploring the city
The Adagio Genève Saint-Genis-Pouilly aparthotel offers extremely comfortable accommodation, allowing you to visit the region or honour your work obligations in the canton of Geneva.
Geneva is home to iconic and unique tourist attractions such as its 140-metre fountain, the flower clock or the Reformation Wall, not forgetting the Palace of Nations and Saint Peters cathedral. It's the ultimate spot for taking full advantage of the beauty of Lake Geneva and the Jura mountains.
*These prices are the "starting from" prices.
They correspond to the lowest total price available on the dates requested, based on one accommodation (room, bed, etc.) or other services.
They may be based on different types of room/apartment or services. Depending on the country, these prices may not include taxes, may include VAT only or may include all taxes (VAT and city tax). When prices do not include all taxes, the relevant taxes (VAT and/or city tax) will be stated in the following stages of the booking process. The price is only guaranteed at the time of reservation.
Foreign currency conversions are given as guidance only and are non-binding.