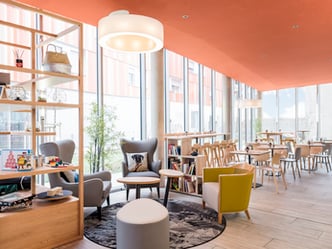 Aparthotel in Massy Gare TGV
This new hotel offers private parking and free Wi-Fi and is conveniently located close to local and national transport connections, with bus services and a Paris RER railway station two minutes away by foot and a TGV station just five minutes' walk away. The hotel's accommodation consists of a range of studios and two-room apartments, with five of the apartments specially adapted for persons of reduced mobility.
The Massy apartment hotel is located in a quiet area offering access to a full range of local amenities. Its proximity to the capital makes it an attractive alternative to Parisian hotels for extended business stays, with kitchen-equipped studios always proving less expensive than conventional hotels, in addition to the complete freedom and independence they offer. This establishment also offers accommodation suitable for couples or families in the shape of its two-room apartments, which contain fully-equipped kitchens, and its free-access laundry, which even has free eco-friendly detergent available. Guests are free to cook and prepare their own food, and even eat healthily if they prefer thanks to the presence of an organic supermarket close by. If you happen not to feel like cooking, however, there are also two restaurants you can visit for lunch and dinner. The first of these, the Living, serves a menu of gourmet French food in a trendy, stylish setting. And if you're particularly hungry, the second, La Galletière, offers a range of crepes and Breton-style buckwheat pancakes to ensure you're fully sated. Whether you happen to come down for the copious breakfast buffet served each morning, or not, there is also always the option of the Le Fournil de Massy bakery, which plies its trade close by.
Things to see in Massy and the local area
When it comes to getting away from your files and projects for a few hours so you can clear your head and recharge your batteries, you have the option of going for a jog or a run in Parc de Vilgénis, visiting the La Poterne sports complex, or, if you're a dedicated cyclist, Massy is also home to a cycling club (the Vélo Club). Another option is to take a trip to the Château de Vilgénis, which has almost 1,000 years of history behind it (though the present building dates from the 19th century). The grounds of the château also contain two lakes. Located a little further away, Massy also offers another large green space in the shape of Parc Georges Brassens, which stands adjacent to a second sports complex equipped with a range of outdoor playing courts and pitches. In short, this is a hotel in an ideal location close to transport networks and all amenities which is also much appreciated by guests for the peace and tranquillity it offers.
These destinations might interest you
*These prices are the "starting from" prices.
They correspond to the lowest total price available on the dates requested, based on one accommodation (room, bed, etc.) or other services.
They may be based on different types of room/apartment or services. Depending on the country, these prices may not include taxes, may include VAT only or may include all taxes (VAT and city tax). When prices do not include all taxes, the relevant taxes (VAT and/or city tax) will be stated in the following stages of the booking process. The price is only guaranteed at the time of reservation.
Foreign currency conversions are given as guidance only and are non-binding.