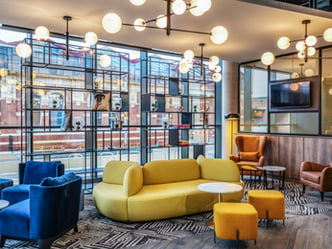 Aparthotel in Leicester
Do you need a break? Would you like to go on holiday for a few days with your partner or family in one of the nicest Adagio Aparthotels beyond the borders, situated in Leicester, England? What a great idea!
Right in the heart of the East Midlands in Leicestershire, less than 50km from Nottingham, is the famous English town with a medieval past. No, it's not a dream and it's coming soon...
Adagio Aparthotel Leicester opening in March 2020!
The ideal pied-à-terre for Adagio Aparthotel experts and the latest addition to the four-star tourist residences. It is a real gem located in one of the most beautiful regions in England. The project includes at least 73 studios and 25 apartments accommodating 2-4 guests with all of the associated benefits. Each accommodation is completely independent with hotel services specific to Aparthotels. They have an equipped kitchen, a desk area and a lounge with sofa bed. Not to mention the internet access, television and breakfast service, as well as the other services such as laundry, dry cleaning and luggage storage area.
And there is a fitness centre, where you can get back into shape!
A unique and atypical holiday to discover extraordinary places
Head to the Adagio Aparthotel Leicester and you will have the opportunity to have fun and explore the nearby incredible world filled with exceptional sights. Mainly, the National Space Centre in the north of the city, offering an extraordinary tour in the largest planetarium in the United Kingdom. This spectacular museum has a 42m tower, 6 interactive galleries and is a real attraction in the area of space science and astronomy.
Also, visit the fantastic Welford Road Stadium near the Leicester Aparthotel, which is dedicated to rugby and the Leicester Tigers Club. Finally, the culture! The Curve Theatre is a magnificent auditorium which is known for its rich and bold programmes of original musical comedy, dance and operas.
*These prices are the "starting from" prices.
They correspond to the lowest total price available on the dates requested, based on one accommodation (room, bed, etc.) or other services.
They may be based on different types of room/apartment or services. Depending on the country, these prices may not include taxes, may include VAT only or may include all taxes (VAT and city tax). When prices do not include all taxes, the relevant taxes (VAT and/or city tax) will be stated in the following stages of the booking process. The price is only guaranteed at the time of reservation.
Foreign currency conversions are given as guidance only and are non-binding.