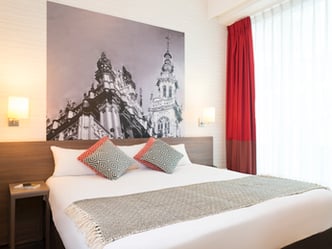 Aparthotel in Brussels
Brussels is a beautiful historic city with plenty to see and do. Adagio has three aparthotels in Brussels, the Brussels Grand Place is located in the city centre and puts you close to the business centres and attractions such as the Grand Place and Anspach galleries. In this apartment hotel there are 140 studios and apartments, with accommodation suitable for 2-4 people.
The Access Brussels Europe is located in the heart of the city, close to the financial and institutional centres and also shopping. This hotel has 110 studios and apartments for 2-4 people, of which 6 are suitable for people with reduced mobility. Both Aparthotels offer breakfast, and all the apartments are fully furnished with a bathroom, work space, kitchen and a living space. Facilities such as WiFi in all the rooms, together with television, telephone and air conditioning provide you with a home from home while away. Public transport is excellent within Brussels so you may want to leave the car in one of the car parks that are close to the hotel while sightseeing. During a weekend or a longer stay, do not miss the sites and monuments such as, Manneken Pis. This monument is located in the heart of Brussels, near the Grand Place.
Brussels - a city of culture and gastronomy
Brussels is a multicultural and multilingual city that is now definitely one of Europe's must-see destinations. This city has a fine food and cafe culture and great nightlife. Since it was European City of Culture in 2000 it offers great places to visit and now has fabulous shopping, numerous museums, and some quirky other attractions that make it very attractive. Perhaps the most famous, or should we say infamous, statue is Mannekin Pis, which serves as a symbol of the humour and spirit of Brussels. Brussels also has some fantastic architecture and in the Grand Place you will find some beautiful 17th century buildings with one of the finest civic examples being the Town Hall with its Gothic style tower. Sprinkled around the square are cafes and the famous waffle shops, which add a modern touch. Belgium still has a very active monarchy and the Royal Palace is open for public visits during the summer. It is located opposite the Parliament Building on the opposite side of the Royal Park. Home to lively cafes and boutiques are the Royal Saint Hubert Galleries. If you are looking for chocolate shops, look no further than the Place du Grand Sablon.
*These prices are the "starting from" prices.
They correspond to the lowest total price available on the dates requested, based on one accommodation (room, bed, etc.) or other services.
They may be based on different types of room/apartment or services. Depending on the country, these prices may not include taxes, may include VAT only or may include all taxes (VAT and city tax). When prices do not include all taxes, the relevant taxes (VAT and/or city tax) will be stated in the following stages of the booking process. The price is only guaranteed at the time of reservation.
Foreign currency conversions are given as guidance only and are non-binding.