3-minute walk to Holstenstraße

15 minutes by car to Airport of Kiel

Check-in from 15h00 / Check out up to 12h00
If you're planning to visit Kiel, the capital of Schleswig-Holstein, which is also among the 30 largest cities in Germany, whether it's for a work trip, or you're visiting the city with family and friends, stay in one of our 90 new apartments.
Ideal accommodation in Kiel
Whether you're travelling alone or accompanied, you're sure to find the aparthotel that suits you. Our new residence in Kiel has 45 studios for one or two people, 30 twin apartments for up to three and 15 apartments for four. Your Adagio aparthotel will make you feel at home as it has everything you need for a comfortable stay including a fully equipped kitchen and modular furniture, so you can adapt the different rooms to suit your tastes and needs, etc.
A comfortable residence in Kiel
Whether you're travelling to Kiel for a long or short trip, you'll find all the services you need for your comfort and convenience: a shop for your necessities, a library, a car park, a meeting room, a fitness room, a reception desk etc. Available 24 hours a day, the residence's staff will make sure you have a pleasant stay.
What to do around the aparthotel in Kiel?
Just a 15-minute drive from the airport, your Adagio Access Kiel hotel is ideally located. The aparthotel is only a ten-minute walk from Central Station and a three-minute walk from the Ferry Terminal. If you want to try your luck, there's a casino adjacent to the complex. You can also enjoy a cruise, discover the city's superb combination of culture and history, go shopping, admire the fjord and its beaches, etc. By opting to stay in an aparthotel in our Adagio Access Kiel residence, you can be sure to have a pleasant trip.
Best price guaranteed

Free Wifi

Payment on the spot*

Free cancellation*
*Depending on the selected offer
Our apartments and studios
Studio for 2 people with a double bed
Just like in your own apartment: Our cozy studios have a kitchenette that invites you to cook and offer enough space for 2 people. The comfortable double bed guarantees a restful sleep.
Studio for 2 persons
Whether alone or as couple - in our studio you will find everything you need for a comfortable stay in Kiel. In the kitchenette you can prepare your own food and the comfortable beds invite you to dream.
Studio for 2 people with twin beds
Modernly furnished/equipped with a kitchen, the studio with twin beds is particularly suitable if you are traveling with friends or colleagues. In the two separable single beds you can relax undisturbed.
Studio for 4 persons
If traveling with family or in a small group, our spacious studios can accommodate up to four people. In the fully equipped kitchen, the hunger of everyone can be satisfied according to their own taste.
Services available on your aparthotel
Wheelchair accessible hotel
100% Non Smoking Property
What to see and do near the serviced apartment?
Holstenbrucke 28 24103 KIEL

Tel: 4318881480
Fax: 431888148199
You may like...
Aparthotel Adagio Bremen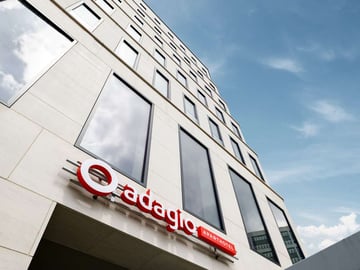 Member rate -10% Take advantage of this reduction by creating your account at the time of your reservation
Adagio Cologne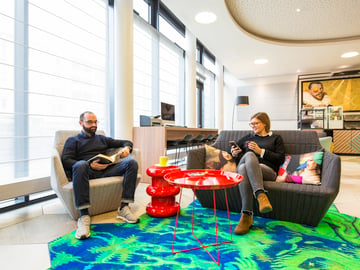 Adagio access Hamburg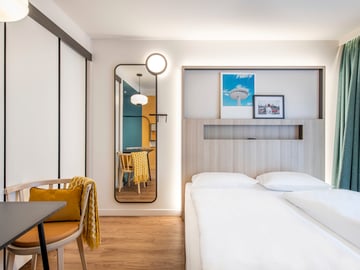 Adagio access Hamburg
Largest Harbor in Germany – 3rd in Europe
Member rate -5% Take advantage of this reduction by creating your account at the time of your reservation