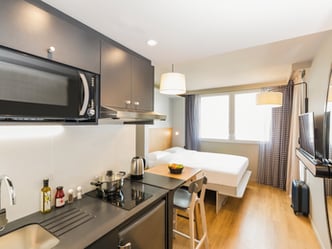 Aparthotel in Saclay
At Adagio, the comfort and functionality of our apartments has always been our top priority. The new Adagio Access Palaiseau Plateau Saclay lodgings certainly do not break with that tradition. The result of thorough study and our experience in development, they offer you all the amenities you need to make your stay in Paris successful.
Located in a quiet residential area just minutes from the centre of Paris, the brand new Adagio Access Palaiseau Plateau de Saclay is now open to guests!  It has a wide range of furnished and fully equipped accommodation, ranging from 2 to 4-room studios. Each of the 111 apartments in our new residence has been carefully decorated and has a private bathroom, a full kitchen, a living area and a work area.
Our apartments are primarily designed to make you feel at home. Aesthetically modern, fully furnished and equipped, you will love their functionality, their modularity and their advantageous location.  Located between the towns of Palaiseau, Saclay and Orsay, just 500 metres from the Polytechnic of Palaiseau, your apartment will provide you a peaceful environment. However, the vibrancy of Paris is still close to hand! It will only take you a few minutes to reach the very heart of the City of Lights by metro, bus or car. The Adagio Access Massy is only 15 minutes away by car or bus (7 km). From your residence, you can reach Orly airport in about 20 minutes (19 km).
The practicality of an apartment, the services of a hotel
The 111 apartments of our residence Adagio Access Palaiseau Plateau de Saclay are not just the ideal pied-à-terre for your stay in Paris. They also offer you a complete set of hotel services for your convenience. Each of our rooms has, for example, air conditioning, a beautiful television screen, a telephone line and broadband internet access. Luggage storage and laundry facilities are also available. To allow you to comes and go as you please, it is accessible 24/24 and offers 28 underground parking spaces. If you come to Paris by car, you will not have to waste your time with tedious searches for a parking space.  At Adagio, you can choose your accommodation according to your needs. Our residence includes apartments of 2 to 4 rooms, which can be reserved for short-term or long-term stays.  They are the ideal solution for your business trip to Paris or your holidays.
These destinations might interest you
*These prices are the "starting from" prices.
They correspond to the lowest total price available on the dates requested, based on one accommodation (room, bed, etc.) or other services.
They may be based on different types of room/apartment or services. Depending on the country, these prices may not include taxes, may include VAT only or may include all taxes (VAT and city tax). When prices do not include all taxes, the relevant taxes (VAT and/or city tax) will be stated in the following stages of the booking process. The price is only guaranteed at the time of reservation.
Foreign currency conversions are given as guidance only and are non-binding.