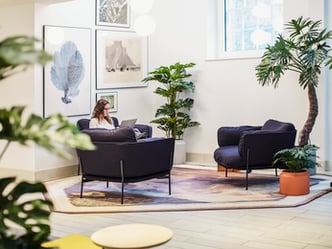 Aparthotel in Edinburgh
The Adagio Aparthotel in Edinburgh sits in a lovely location in the city centre and is waiting to welcome you, whether for a few days or an extended visit to the Scottish capital. This well-respected establishment is located on the Royal Mile, whose name it bears, near several tourist areas including the city's restaurants, shops and unmissable monuments.
The Adagio Edinburgh Royal Mile has 146 modern apartments, ideal for your solo business trips, trips with your loved one, or for groups of 4 people (family or friends). The accommodations are comfortably equipped including free and unlimited internet access, LCD TV and telephone. The apartments also have a fully equipped kitchen, a work desk and a living area that can be reorganised to make you feel more at home. As well as its front desk service that is open 24 hours a day, the Adagio Aparthotel in Edinburgh offers a variety of other services, including a choice of breakfasts during the week and at weekend. It is pet friendly, provides laundry and dry cleaning services, as well as access to all the fitness room equipment. Cleaning is included in packages stays of 8 nights or more. For business travellers, the hotel offers a business corner with a computer.
Discover Edinburgh
Edinburgh's unmissable spots are located not far from the Adagio Edinburgh Royal Mile Aparthotel. During your stay be sure to visit the cathedral of Saint-Gilles. This historic and cultural monument is less than 500 metres from the Adagio Edinburgh Aparthotel. Scotland's capital is also home to many parks, beautiful natural jewels that are conducive to relaxing walks. Both kids and adults alike will enjoy a tour through Edinburgh Zoo. To top it all off, the various restaurants in the vicinity represent a great opportunity to discover local specialties at any time during your stay.
*These prices are the "starting from" prices.
They correspond to the lowest total price available on the dates requested, based on one accommodation (room, bed, etc.) or other services.
They may be based on different types of room/apartment or services. Depending on the country, these prices may not include taxes, may include VAT only or may include all taxes (VAT and city tax). When prices do not include all taxes, the relevant taxes (VAT and/or city tax) will be stated in the following stages of the booking process. The price is only guaranteed at the time of reservation.
Foreign currency conversions are given as guidance only and are non-binding.