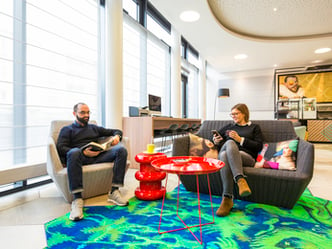 Aparthotel in Cologne
The Aparthotel in Cologne offers 115 fully equipped apartments. Depending on your needs, you can choose between studios for 2 persons and two-room apartments for 4 people. The Aparthotel also has 5 rooms specially equipped for disabled guests and all the rooms are non-smoking.
Newly opened, the Aparthotel City Köln allows you to enjoy an exceptional location in the historic centre of Cologne and within walking distance of attractions such as the Cathedral of Cologne. Contemporarily furnished, the apartment hotel is ideal for long- term let's as it has a working space, living area, fully furnished kitchen with all the home comforts and a choice of double or single beds.There is also a WiFi, television, telephone, safe, clock and air conditioning in every room. Services of the hotel include private covered parking, a gym, laundry room and a vending machine for sandwiches and drinks. Open 24 hours a day, pets are welcome at this Aparthotel and there is the option to have breakfast if you wish. For a family vacation, a zoo is a just few minutes' drive from the Aparthotel. There is plenty to do in Cologne, so make time for a long weekend or better still, a longer stay in this beautiful city.
Cologne, a fascinating city to explore
Cologne has something to fascinate every visitor. From the twelve Romanesque churches to the carnival, which is the largest street festival in Europe, Cologne will immerse you in its history and folklore. Located on both sides of the Rhine, Eau de Cologne was named after the city and was invented by an Italian perfumier in 1709. Originally founded by the Romans in 50 AD, Cologne has many beautiful buildings including its most famous, Cologne Cathedral, a UNESCO World Heritage Site. It still boasts many medieval buildings and the city still retains three of the original twelve medieval city gates. A dynamic city, that also attracts professionals to the Cologne Trade Fair which hosts a number of trade shows such as Art Cologne, imm Cologne, Gamescom, and the Photokina. The city is a major cultural centre and has a vibrant arts scene. It is also home to more than 30 museums and hundreds of art galleries. Shopping is also a major part of the city with the Schildergasse attracting more than 13,000 people every hour. You can also spend pleasant time with a stroll along the Rhine, in North Rhine-Westphalia. Cologne is well worth visiting and promises you an exceptional stay.
These destinations might interest you
*These prices are the "starting from" prices.
They correspond to the lowest total price available on the dates requested, based on one accommodation (room, bed, etc.) or other services.
They may be based on different types of room/apartment or services. Depending on the country, these prices may not include taxes, may include VAT only or may include all taxes (VAT and city tax). When prices do not include all taxes, the relevant taxes (VAT and/or city tax) will be stated in the following stages of the booking process. The price is only guaranteed at the time of reservation.
Foreign currency conversions are given as guidance only and are non-binding.