Aparthotel Adagio Paris Bercy Village
ALL SAFE
We have introduced elevated hygiene & prevention measures to ensure your safety.
The ALLSAFE label represents our new cleanliness & prevention standards and provides assurance that these standards have been met in our hotels.
Ideally located in the heart of Bercy Village

A stone's throw from the Saint-Emilion district, with shops, restaurants and terraces

Check-in: 3PM - Check-out: 11AM
The Aparthotel Adagio Original Paris Bercy is situated in the eastern part of Paris, at the heart of the Bercy Village quarter, close to the restaurants and shops that line the Cour Saint-Emilion. The aparthotel comprises of 140 fully equipped flats. Guests can use a launderette, ironing service. The complex also has a meeting room available to business travellers. Our reception staff are on hand 24 hours a day.
Discover a new concept at the aparthotel Adagio Original Paris Bercy!
4 bedrooms connected to a common living area with a fully equipped kitchen, the Coliving apartment can host up to 8 persons, for mid- and longstay. These apartments were designed for yourself, your family, group of friends or work colleagues.
Location
Our Adagio Original Paris Bercy hotel is located in the immediate vicinity of the Gare de Lyon and the banks of the Seine. You can choose to take a walk or have a drink on the banks of the Seine, or use line 14 to get around Paris. Passing through Châtelet and the Saint-Lazare station, you can get to the centre of Paris or to the department stores in a few minutes.
Choosing your hotel in Bercy village
By choosing an Adagio aparthotel in Bercy Village, you are sure to be well located to move around Paris, or to enjoy the different places near your accommodation. Moreover, all our aparthotels are equipped with everything you need for your comfort, the kitchen and the bathroom are equipped to ensure an ideal stay.
Best price guaranteed

Free Wifi

Payment on the spot*

Free cancellation*
*Depending on the selected offer
Our apartments and studios
Studio for 2 people
Living room with 1 double fold-away wall bed or twin beds, equipped kitchen, bathroom with bathtub and WC, television, hi-fi system, direct telephone, personal safe, air cooling and WIFI.
Studio Superior Balcony
Superior studio w/ balcony, living room w/ double bed or twin beds w/ mattress toppers. Kitchen with Nespresso machine, bathroom w/ toilet, Wi-Fi, TV, air freshener, bluetooth speaker® and chromecast.
Apartment with 1 bedroom for 4 people
Stay with a double drop-down bed or 1 single bed, equiped kitchen, bathroom with bathtub and WC, TV, stereo system, direct phone line, individual safe, air freshener, and Wi-Fi Internet access.
Apartment with 2 bedrooms for 6 people
Lounge with 1 trundle bed, room with 2 single beds, room with 1 double bed, equipped kitchen, bathroom with bathtub, WC, television, HiFi channel, direct dial phone, safe and WiFi.
4-bedroom, co-living apartment for 8 people
Lounge with large kitchen equipped with oven, dishwasher, washing machine, fridge, microwave, Nespresso machine; 4 rooms with double/twin beds, bathroom with shower and WC. Wardrobe with storage and safe.
Services available on your aparthotel
Wheelchair accessible hotel
100% Non Smoking Property
What to see and do near the serviced apartment?
1-7 Cour du Minervois 75012 PARIS

Tel: 1/53021100
Fax: 1/53021110
Adagio access Porte de Charenton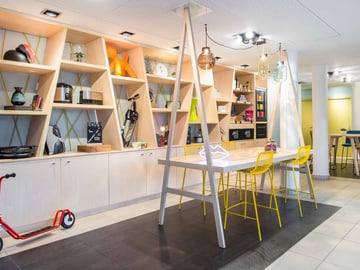 Adagio access Porte de Charenton
Member rate -5% Take advantage of this reduction by creating your account at the time of your reservation
Adagio Access Paris Reuilly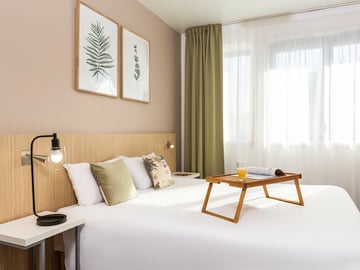 Adagio Access Paris Reuilly
Member rate -5% Take advantage of this reduction by creating your account at the time of your reservation
Adagio access Paris Ivry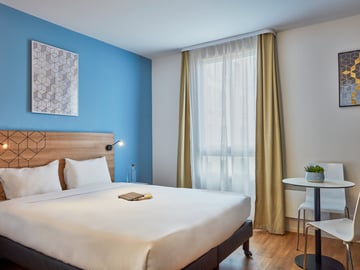 Member rate -5% Take advantage of this reduction by creating your account at the time of your reservation