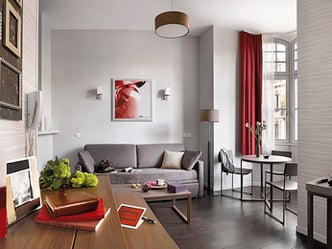 Aparthotel in Strasbourg
When on a business trip, the executive often seeks facilities that cater to his or her most pressing needs. His or her accommodations must be close to meeting venues or business centers, provide easy access to local public transportation; and must be economical enough to be cost-effective as a business expense. The business executive also requires full amenities, as might be found in his or her own home. Adagio, specializes in just such hotel facilities, catering to the businessman's every wish, by offering splendid stays at an aparthotel.
An aparthotel is essentially a complete apartment that is leased like a regular hotel, but unlike a hotel, Aparthotels are actually fully equipped, with a complete kitchen, living room, office, and sometimes separate bedroom. This is very convenient for those business travelers who might wish to share quarters, while still maintaining their privacy. Moreover, there is free Wi-Fi access and the full services of a reception to fulfill any need the client may have.
The Holiday Stay
Aparthotels have proved to be an advantage for vacationing travelers . They are extremely convenient as a substitute to regular hotel rooms for the couple on holiday or weekend trip, or even the entire family. A traveler can book a hotel room, and experience the cramped quarters typical of a single room, or can resort to an apartment rental that functions exactly as a hotel does, but with full amenities, a completely equipped kitchen, separate rooms etc. Adagio also caters to the leisure traveler.
On Tour in Strasbourg
When visiting this ancient city, whose culture combines both France and Germany, do not miss some notable sights, such as the Strasbourg Cathedral, Strasbourg Museum of Modern and Contemporary Art, the Strasbourg Astronomical Clock, or the very ornate Kammerzell House. There is the Musée des Beaux-Arts de Strasbourg, along with many churches, including Le Saint-Pierre-le-Jeune Protestant Church, reputed to be one of the most important church constructions in Strasbourg. The Bibliothèque nationale et universitaire is another notable landmark, as is le Stade de la Meinau where many sporting events occur. Do not miss the Rhône-Rhine Canal, which connects the North Sea and the Mediterranean. For all available attractions, do visit the Tourist Office of Strasbourg. There is much to do in this lovely European city, for both the visitor, as well as the businessman.
*These prices are the "starting from" prices.
They correspond to the lowest total price available on the dates requested, based on one accommodation (room, bed, etc.) or other services.
They may be based on different types of room/apartment or services. Depending on the country, these prices may not include taxes, may include VAT only or may include all taxes (VAT and city tax). When prices do not include all taxes, the relevant taxes (VAT and/or city tax) will be stated in the following stages of the booking process. The price is only guaranteed at the time of reservation.
Foreign currency conversions are given as guidance only and are non-binding.